Corona Virus - Last Update 27-03-2020
Please follow the latest information here...
UPDATE - 27-03-2020
Letter to all parents/carers:
"I hope this update finds you well. It has been a week now since, following guidance from the government, we had to close the school to the majority of students. I thought this would be an opportune moment to give you an update..."
For the full letter from Mr Cannon, please see below downloads section.
---
UPDATE - 26-03-2020
Letter to Year 11 Parents about Exams:
"I am writing to update you with further developments regarding Year 11 Qualifications. I will continue to do so as we receive more information from the government. We understand that this is a very difficult time for students and parents. The teaching staff and I are also disappointed that the examination series will not continue as usual following all the hard work of students and staff..."
For the full letter from Mr Cannon, please see below downloads section.
---
UPDATE - 25-03-2020
We have sourced several documents that may help students and parents during this period, such as activities while at home and further information on the virus itself.
Please find all 5 documents in the downloads below, starting with "COVID-19".
---
UPDATE - 24-03-2020
"We are please to announce that we have linked up with a company called Wonde, which has enabled us to create an electronic free school meal voucher..."
For the full letter, please see below downloads section.
---
UPDATE - 23-03-2020
Please see the guide below for assistance with accessing Doddle at home.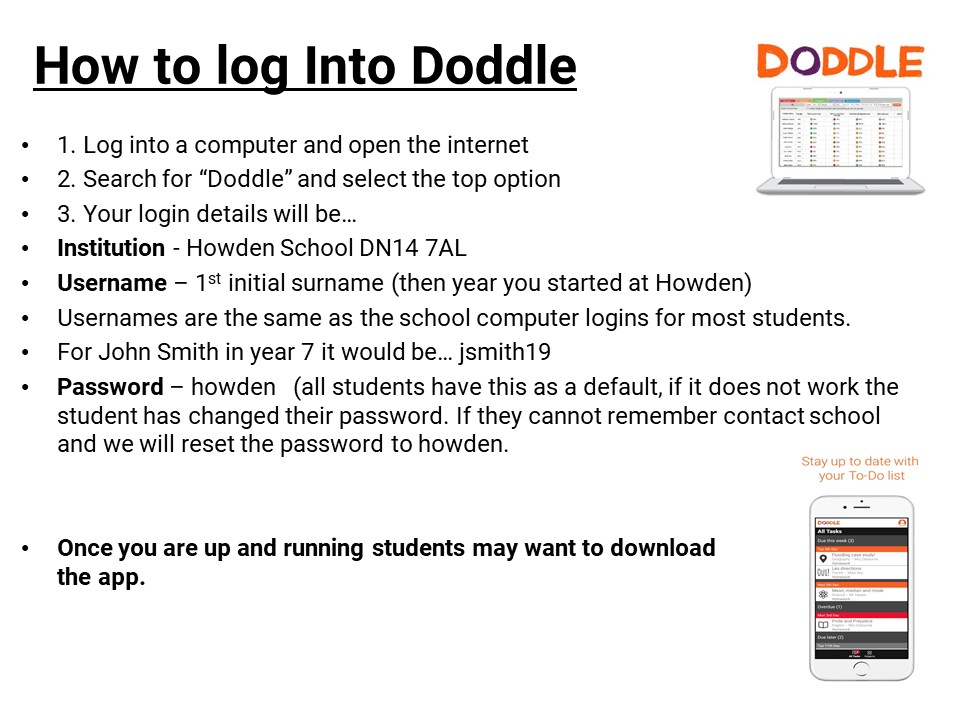 ---
UPDATE - 20-03-2020
"I write to provide a further update as we advance our preparations to ensure that we are able to support continued learning after the closure of the school. During the required closure, we intend to continue to support learning through a range of activities and work that we have prepared..."
For the full letter from Mr Cannon, please see below downloads section.
Department emails are:
| | |
| --- | --- |
| Art | hs-artteachers@howdenschool.net |
| Business | hs-businessteachers@howdenschool.net |
| PE | hs-peteachers@howdenschool.net |
| MFL | hs-languageteachers@howdenschool.net |
| Drama | hs-dramateachers@howdenschool.net |
| Music | hs-musicteachers@howdenschool.net |
| ICT | hs-ictteachers@howdenschool.net |
| Technology | hs-technologyteachers@howdenschool.net |
| RE | hs-reteachers@howdenschool.net |
| History | hs-historyteachers@howdenschool.net |
| Geography | hs-geographyteachers@howdenschool.net |
| English | hs-englishteachers@howdenschool.net |
| Maths | hs-mathsteachers@howdenschool.net |
| Science | hs-scienceteachers@howdenschool.net |
---
The exam boards will be asking teachers, who know their students well, to submit their judgement about the grade that they believe the student would have received if exams had gone ahead. Howden School will be in contact with students when we have received further guidance on how this looks.
https://www.gov.uk/government/news/further-details-on-exams-and-grades-announced
---
The purpose of school closure is to ensure social distancing can effectively take place. The purpose of allowing schools to remain open to those defined as 'Key Workers' is to enable of national health service and vital infrastructure to continue for as long as possible. Therefore, if you find that you fit the definition, please consider that this is OPTIONAL and, should not be used if you have alternative care available for your child(ren).
"The government has asked parents to keep their children at home, wherever possible, and asked schools to remain open only for those children who absolutely need to attend."
https://www.gov.uk/government/publications/coronavirus-covid-19-maintaining-educational-provision/guidance-for-schools-colleges-and-local-authorities-on-maintaining-educational-provision
---
Due to the recent announcement of schools closing and no exams taking place, we want to reassure you that this will not affect your place at Selby College. We realise these are uncertain times but would advise you to continue working hard with your school studies.
If you haven't already had your interview, we will be in touch very soon to arrange this and it will be over the telephone.
If you have had your interview, we will be sending more information to you in the coming weeks.
Please don't worry; we are working on plans so that no student will be disadvantaged by school closures and cancelled exams. We are here to support you; if you have any questions please email info@selby.ac.uk and we will respond as quickly as possible.
Kind Regards,
Selby College
---
The removal of end of year assessments also has a significant impact on all of our feeder schools. We have already had several queries from applicants and schools looking for guidance on what it means for their application to study with us in the autumn.
Our position is simple:
We will honour all of the offers we have made to students.
We will accept the outcomes that they are awarded and use these to assess their suitability for courses according to our published entry criteria (as ever, these are subject to change)
We are not giving guaranteed enrolment appointments for applicants who apply after March 31st
Given our move to remote working, applicant interviewing will take place by phone. The team are planning this at the moment but we will not be looking to start these interviews until we are confident our remote working arrangements are effective.
Kind Regards,
Wyke Sixth Form College
---
I know that we are in anxious times. I just wanted to let you know about JLC's approach to this year's GCSE results and our entry requirements. I hope this gets rid of one of your worries. Our guarantee to you is that we will liaise with your head teacher and if they confirm your potential grade matches our entry requirements we will honour that.
We want to reassure our prospective students that as information comes through, we as a college will adapt to ensure your future is not affected at John Leggott College.
Our School Liaison Team will be working though all applications and will be conducting telephone interviews over the next two weeks throughout the working day. Please note these phone calls will be from a withheld number.
Following on from this, an offer letter or email will be sent to prospective students but we cannot guarantee the timeframe for this.
We appreciate your patience with us, our students are at the heart of what we do and we will be adapting our processes we are implementing in line with government advice.
Applications to John Leggott College are still open and we will continue to process these.
If you have any further queries about your individual circumstances, please email us at admissions@leggott.ac.uk
Leon Riley,
Principal John Leggott College'
---
UPDATE - 19-03-2020
"On Friday 20 March, we will remain open for Year 7 students but we have made the difficult decision to close for all Year 11 students. We have made this decision based on our ability to safely cover lessons and with consideration of our current Year 11 cohort...."
For the full letter from Mr Cannon, please see below downloads section.
---
"The government also made it clear that schools would remain open for children of 'Key Workers'. At the moment, indications are that these include the following: NHS staff, including ambulance / paramedic, Police, Fire Service, Teachers, Food Delivery Drivers. If you work in any of these key areas and you are the primary carer for your child, please can you let us know as soon as possible following this link here https://bit.ly/2x7Vf1L . Once we receive your response, a member of the academy team will ring you to establish further details. In addition, if the government adds other professions and job roles to their published Key Worker list, we will contact you again."
For the full letter from Mr Cannon, please see below downloads section.
---
Additionally, an update from J Scott, school nurse:
"School nurses are available 9am – 5pm Monday to Friday, via ChatHealth – Our confidential text messaging service. The contact number for ChatHealth is 07507 332891.
https://humberisphn.nhs.uk/ Our website is a useful resource for many parent/carer queries, and also contains information to support young people.
Our duty teams are available to answer and any staff or parental queries. For each localities duty team please take a look at his link: https://humberisphn.nhs.uk/contact/
Any changes to our service will be publicised via our Facebook, Instagram and Twitter pages."
---
UPDATE - 18-03-2020
"In light of the rapidly changing situation regarding Covid-19, I am writing to update you again on the situation at Howden School. This is to keep you informed regarding both our response and our decision making process.
We have reviewed our current staffing levels and the situation over the coming days. Reluctantly, I have to inform you that we will have insufficient staff to be able to open the school safely for all students. From Thursday 19 March, we will be open for students in Years 7 and 11 and will be closed for students in Years 8, 9 and 10. We have made this decision to support the Year 11 students as they prepare for the upcoming examination series. We have also decided to continue to teach Year 7 students in school because they are our youngest students and are more likely to need a parent or carer to stay at home with them, which would mean the parents / carers would be unavailable for work."
For the full letter from Mr Cannon, please see below downloads section.
---

UPDATE - 16-03-2020
From now on, if one person in a household starts to display flu-like symptoms - defined as a fever of above 37.8C or a persistent cough - everyone living there must stay at home for 14 days.
---
UPDATE - 13-03-2020
Please also read the below statement from Miss Brownlee, Head of Languages, regarding the Paris Disney trip:
"On the 12 March 2020 the Department for Education issued a change to its current guidance to schools on overseas trips. The guidance reads "The government advises against all overseas education trips for children under 18. This is because trip leaders would face significant challenges in making arrangements to ensure children's welfare, should adult supervisors or children be required to self-isolate."
With this change to the guidance we are currently reviewing the situation again. We are in the process of contacting the relevant insurers and the travel company for further guidance. We will update you next week.
---
UPDATE - 27-02-2020
Our school and all East Riding schools are actively monitoring the situation around the coronavirus (COVID-19) and are acting on any advice given by Public Health England and specific advice provided for school by the Department for Education.
Guidance for travellers returning from certain areas has been updated today. It starts as follows:
If you have returned from these specific areas since 19 February 2020, you should call NHS 111 and stay indoors and avoid contact with other people even if you do not have symptoms:
Iran

Specific lockdown areas in Northern Italy as designated by the Government of Italy (12 specific towns)

Special care zones in South Korea as designated by the Government of the Republic of South Korea

Hubei province (returned in the past 14 days)
We have not been made aware of any student or staff member who has returned from any of the above areas since 19 February 2020.
The guidance continues:
If you have returned from these areas since 19 February 2020 and develop symptoms, however mild, you should stay indoors at home and avoid contact with other people immediately and call NHS 111. You do not need to follow this advice if you have no symptoms.
Northern Italy (defined by a line above, and not including, Pisa, Florence and Rimini) outside the specific lockdown areas in Northern Italy as designated by the Government of Italy
Vietnam

Cambodia

Laos

Myanmar
The latest information for travellers is available here:
General information on the coronavirus (COVID-19) is available on the NHS website here:
Please be assured that we will continue to monitor the situation and keep parents fully informed.