Information for Students while at home
During this time teaching staff are working hard to put work on Doddle and FOLDR for students to use while at home.
Please see below for information:
Office 365
Go to https://login.microsoftonline.com.
A full guide can be found in the downloads section.
Doddle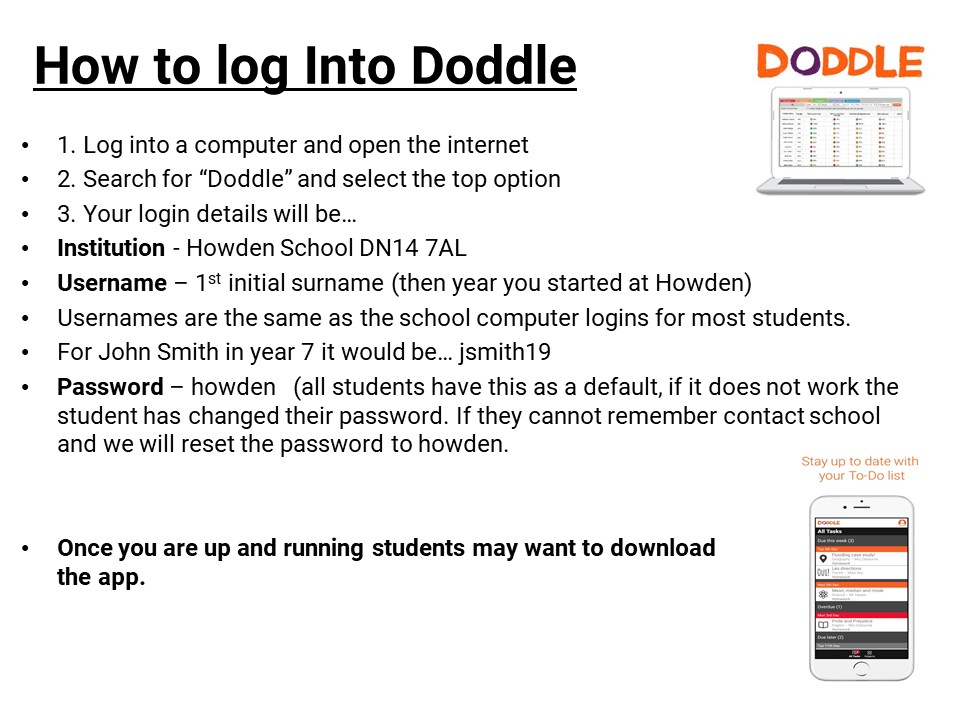 ---
Foldr
The log in credentials for Foldr are the same username and password that would be used to log onto a PC while on site.
The is also a download at the bottom of this page for downloading and uploading files to Foldr.
---
Accelerated Reader
https://ukhosted23.renlearn.co.uk/2034606/default.aspx
---
Links to other sites can be found here.
---
Contact a Teacher
To contact a teacher, please email one of the department emails below depending on which subject you are stuck on:
Art - hs-artteachers@howdenschool.net
Business - hs-businessteachers@howdenschool.net
Drama - hs-dramateachers@howdenschool.net
English - hs-englishteachers@howdenschool.net
Geography - hs-geographyteachers@howdenschool.net
Health & Social Care - hs-hscteachers@howdenschool.net
History - hs-historyteachers@howdenschool.net
ICT - hs-ictteachers@howdenschool.net
Maths - hs-mathsteachers@howdenschool.net
MFL - hs-languagesteachers@howdenschool.net
Music - hs-musicteachers@howdenschool.net
PE - hs-peteachers@howdenschool.net
RE - hs-reteachers@howdenschool.net
Science - hs-scienceteachers@howdenschool.net
Technology - hs-technologyteachers@howdenschool.net
Contact Pastoral
Should you need any support while at home the Pastoral Team are still here to help. You can email your relevant Pastoral Manager on the emails below:
Years 10, 11 - hs-ks4pastoral@howdenschool.net
Years 7, 8, 9 - hs-ks3pastoral@howdenschool.net
House Challenge Submissions
You can submit House Challanges to the emails below:
Johnson - johnsonhouse@howdenschool.net
Simmonds - simmondshouse@howdenschool.net
Mandela - mandelahouse@howdenschool.net
Wilberforce - wilberforcehouse@howdenschool.net
Turing - turinghouse@howdenschool.net