Howden School Writing Competition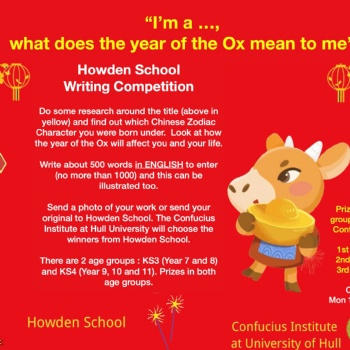 To celebrate the year of the Ox, Howden school has launched a writing competition supported by the Confucius Institute at University of Hull.
Do some research around the title "I'm a... what does the year of the Ox mean to me" and find out which Chinese Zodiac character you were born under. Look at how the year of the Ox will affect you and your life.
Write approx 500 words in English (no more than 1000), this can be illustrated too.
Send a photo of your work, or the original to Howden School. The Confucius Institute will choose winners.
There are 2 age groups (KS3 and KS4).
Prizes are being sponsored by the Confucius Institute:
1st - £30 voucher
2nd - £20 voucher
3rd - £10 voucher