E-Safety
Children are online more than ever and it is important that we provide information to enable you to support them safely. This page provides links to websites and documents that can support parents by providing:

- information on social networks, apps and games
- advice on risks and how to discuss these with children and young people
- information on safe and responsible use of technology
- advice on how to report issues
Young people or parents should raise any concerns whilst online. As well as reporting issues to the school, organisations below also provide practical support:

CEOP
https://www.ceop.police.uk/safety-centre/
---

The NSPCC and O2 Net Aware Guide provides information on popular social networks, apps and games. By entering the name of a social network, app or game into their search box, you can access a parent guide and also a simple expert overview of any potential risks that they have identified

Website
https://www.net-aware.org.uk/
---

Supporting young people to be happy and healthy online
See Lets talk about life online PDF in downloads section below.
---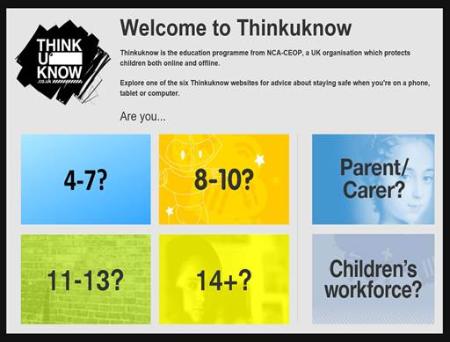 Website
https://www.thinkuknow.co.uk/
---

Developed across the Humberside Police Force area, Not in our community is a leading campaign that helps young people protect themselves and friends against grooming leading to sexual and criminal exploitation. During the COVID19 pandemic this is evermore important to spot the signs online.

Website
https://notinourcommunity.org/home-learning
---
Online Radicalisation - Please see Parent Guardian Online Radicalisation Information and Support PDF in the downloads section below.